How Do You Change a Car Tire?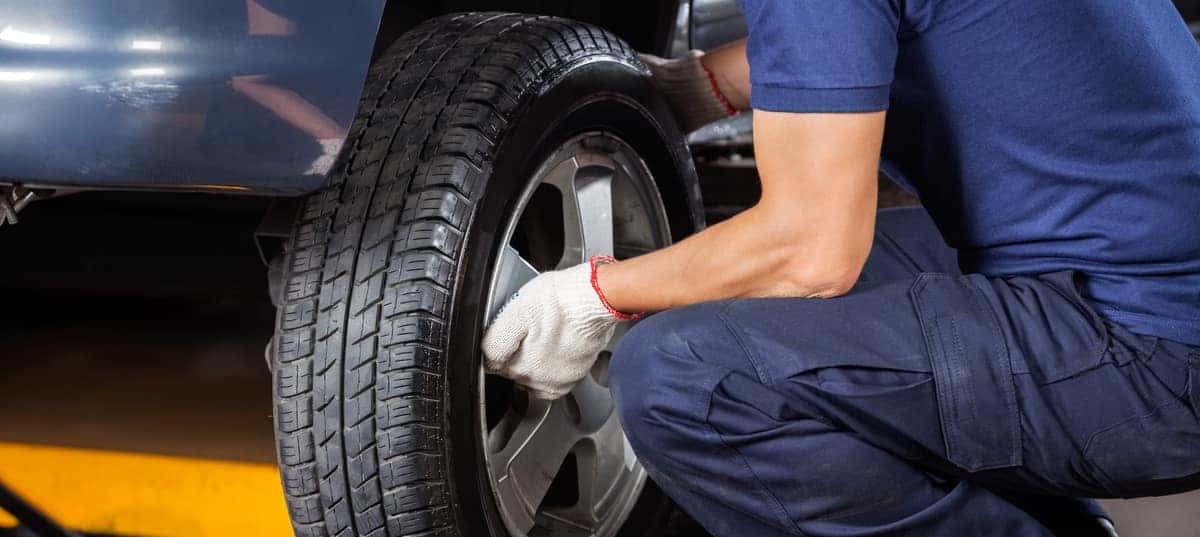 This process changes slightly depending on the drivetrain of your vehicle. It can be very handy to learn how to change car tires as this can help you avoid waiting for help on the side of the road. Learn more about the basic steps to change a car tire at home with our service center experts and you'll be on your way in no time at all.
---
Changing Your Car Tires
If you need to change a flat tire or would like to learn how to rotate your tires at home, you'll need the right tools. You'll need a jack, lug wrench, a set of new tires, and the owner's manual. This process is painless once you get the hang of it. Simply follow these steps:
If you're stranded in Plano with a flat, put on your hazards and move your car out of the flow of traffic.
Apply your vehicle's parking brake and place your wheel wedges under your tires.
Then, remove the wheel cover or hubcap from the affected tire.
Begin to loosen the lug-nuts using the recommended star shape (moving diagonally from each lug nut to the next).
Next, use the jack to raise your vehicle.
Now, fully remove the lug nuts.
Remove the damaged or old tire and place your spare tire or new tire in its place.
Tighten the lug nuts in the same star formation.
Safely lower your vehicle to the ground.
Remove the jack and stow away your tools.
How Often Should You Change Car Tires?
While tires should last a bit over six years, this depends on how often you have them checked and rotated. So, how often should drivers change their tires? This depends on the following:
When you had your last rotation
Terrain
Weather
Driving habits
Tire pressure
Tread depth
Overall wear and tear
Balding
Mileage
Any suspicious sounds
It's important to maintain your vehicle's tires. Make sure you plan to have a tire rotation completed at each oil change, or every six months to a year. Having these completed regularly will help you avoid blowouts as well as other damages to your tires in the future.
Contact our Town North Mazda Service Center with Your Tire Needs
If this is a service you don't want to complete yourself, you can always bring your vehicle into our service center. Schedule an appointment today and our team will help you get your vehicle back onto Dallas roads safely. Have questions in the meantime or want to check out our available service specials? Don't hesitate to contact us!
More from Town North Mazda
Impressed with everything that the 2020 Mazda3 has to offer? When the time comes to choose your favorite Mazda3 hatchback configurations, choose the team at Town North Mazda to help! We've created a helpful guide to help you compare each of the trim levels so you can find the one that's right for you and your driving…

While the Mazda CX-5 is known for being powerful and stylish, it's the impressive interior dimensions that seal the deal. This high-end Mazda SUV provides plenty of interior space to ensure you can pack up the vehicle and still have plenty of room for each passenger to ride along comfortably. Explore the 2020 Mazda CX-5…

Though many drivers know the 2020 Mazda CX-9 for its impressive towing capacity, the Mazda CX-9 interior provides high-end comforts and technology to make any family drive entertaining and comfortable. When shopping for a new Mazda 3-row SUV, the Mazda CX-9 dimensions will prove to be spacious enough for everyone and everything you want to…