2018 Mazda CX-5 Color Choices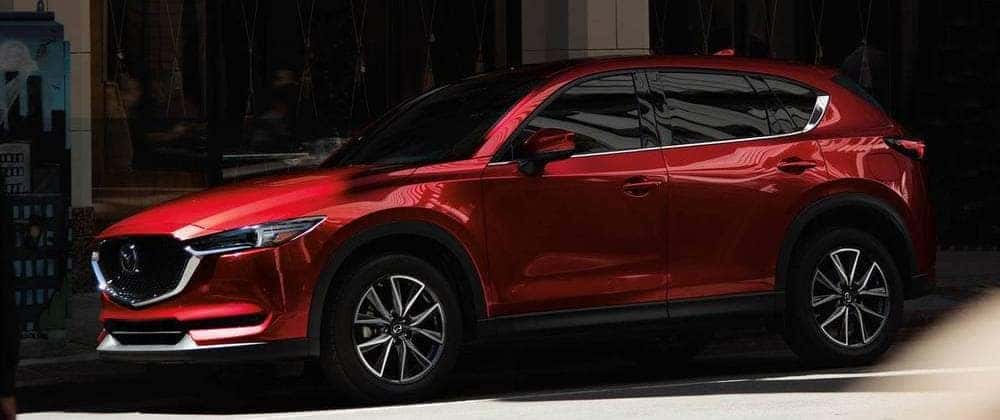 The new 2018 Mazda CX-5 offers Dallas drivers plenty of options when it comes to colors. With plenty of choices for both exterior and interior colors, you'll be able to find the perfect balance that fits your personality. Whether you want a rich, deep red or an elegant silver, the CX-5 has you covered. Let's take a closer look at all the choices you have when it comes to Mazda CX-5 colors.
Standout on the Streets of Plano With These Bold Colors
Soul Red
Make a statement in this iconic red from Mazda. A deep red takes over under the cover of shade, while the color still pops in the sunshine
Sonic Silver
Set between the gray and black, this option gives your CX-5 a clean, shiny look while remaining classy and elegant
Jet Black
Drive the McKinney streets in this sharp, clean black color that simultaneously emits feelings of style and power
Deep Crystal
This rich, deep blue offers the CX-5 a coating that is colorful and different without being shocking
Pick the Color That Suits You, Inside and Outside
Before you pick up a new Mazda CX-5, you want to make sure you make it your own. One great way to do this is by picking the colors for the exterior, and interior, to be exactly how you want them. The CX-5 offers you even more than the options listed above, as well as a variety of interior choices to truly personalize your ride. Apart from the four colors above, the exterior of the CX-5 can also be colored in:
Snowflake White Pearl
Opt for this color if you want a clean, smooth look to your CX-5
Machine Gray
Don't want to go with a dark black, but don't want the white coat either? This dark, vibrant gray is a great middle ground
Eternal Blue
If you want to stand out with a burst of color, this light blue is a pleasing, beautiful hue
We know that you can't always see what your CX-5 looks like from the outside, so you want to make sure the inside is just as pleasing. Between cloth, leatherette, and leather options, you can turn the interior of your CX-5 into the perfect cabin for yourself thanks to these options:
Cloth

Black Cloth: The standard interior across the base trim, this cloth option gives your interior a sharp, clean look
Sand Cloth: Want the same cloth feel but with a bit more pop? The sand-colored cloth is a great choice for those who want a bit more color on the inside

Leatherette

Black Leatherette: Available on higher trim levels, this black imitation leather offers luxury without high cost while making your interior even more elegant
Silk Beige Leatherette: A great choice to match lighter exterior colors, the silk beige is a beautiful neutral tone

Leather

Black Leather: On the highest CX-5 trim levels you can turn your cabin into a luxurious getaway thanks to this pristine black leather look
Parchment Leather: The top of the interior designs, the parchment leather gives your seats a spotless shine next to the leather trimmings across your interior
Step Inside the 2018 CX-5 at Town North Mazda
It isn't just the fantastic color options that make the 2018 CX-5 interior a must see. There are plenty of great features and conveniences to make your drives around Richardson all that much better. If you have any questions or concerns before coming to visit us, please feel free to contact us today!
What We Love About Our Favorite Mazda Models: